Welcome to the UQ Virtual Village!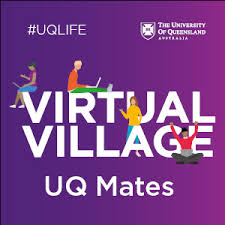 The UQLife Virtual Village is an online community led by the UQ community, helping to bring your everyday connections online. The Village offers students the opportunity to connect with UQ groups, individuals and faculty groups; create student led events and programs; and freely discuss issues, connect over hobbie and interests and learn from each other. The village is changing daily with new services, conversations and events popping up daily. The way you get involved is up to you! New circles, groups, hangouts and conversations are coming on board everyday, so make sure you keep coming back to see who you can connect with. 
Use this link https://life.uq.edu.au/village to read all the ways UQ can support you in making your experience studying with us the very best it can be!