Rotary Peace Centre Graduation 2018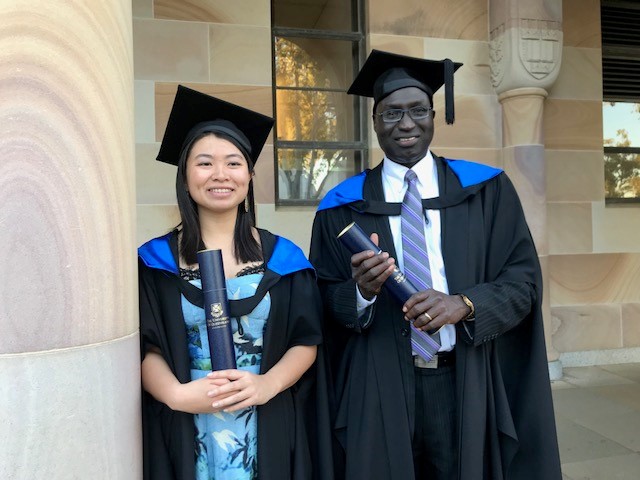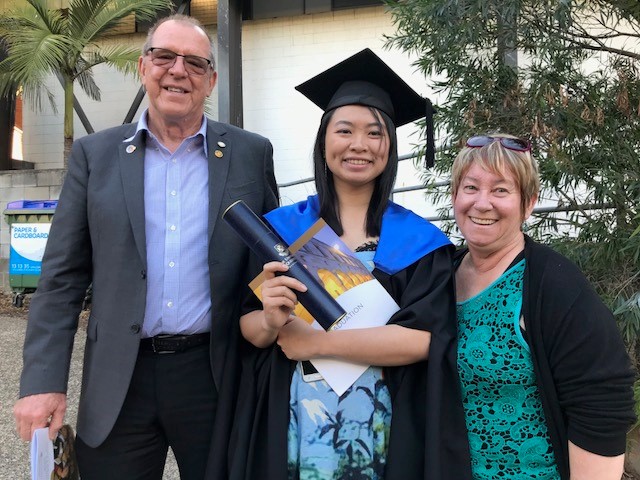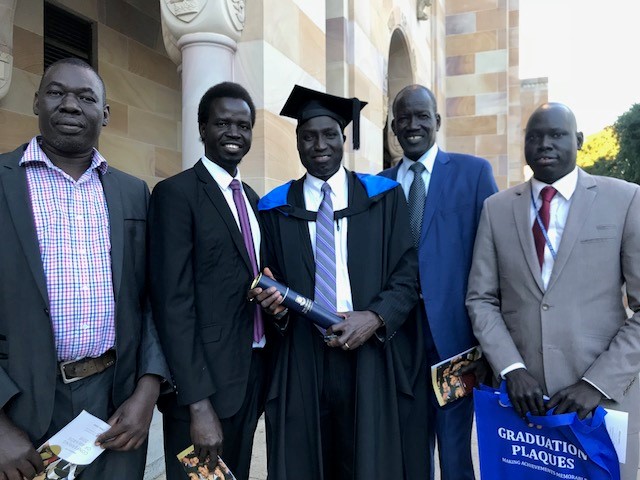 Two Rotary Peace Fellows from Class XV graduated on the 18th of July with a Masters of Peace and Conflict Studies (MPACS), sponsored by The Rotary Foundation. Mr Ashuein Alor and Ms Shen Huang (pictured) received their awards from the Chancellor Mr Peter Varghese (AO).
Ashuein was hosted in Brisbane by the Rotary Club of Redcliffe Sunrise. During their studies at the School of Political Science and International Studies, both Shen and Ashuein completed courses in the core curriculum of peace and conflict studies, and undertook an Applied Fieldwork Experience (POLS7521) to enhance their academic studies. Ashuein left his home country, South Sudan in 1983 when civil war broke out, and his village was destroyed. He fled to Khartoum as an internal refugee, and worked odd jobs to support himself while attending school in the evenings until he graduated from high school. In 1989, he was forced again to flee as a refugee to Egypt where he received protection from United Nations High Commissioner for Refugees and was granted asylum in Canada in 1999 as a landed immigrant. He volunteered with his Sudanese community in Winnipeg and joined the University of Manitoba to study Social Work.
As a Rotary Peace Fellow Ashuein completed his AFE in Brisbane with Integra Management Services, an organization contracted to evaluate Queensland's Cohesion Communalities Action Plan by the Department of the Premier and Cabinet. Ashuein says, "My AFE experience had helped me obtain skills in the field of refugee resettlement and building existing community connections and engagement. The internship also increased my understanding of particular mechanisms and initiatives that promote cohesion in communities." In reflecting on his academic studies, he commented: "I think the MPACS has helped me to see conflict resolution, especially mediation, from an interest-based position. I learned specific mediation skills and techniques for conflict resolution." Ashuein says he sees his future as "contributing to peace and conflict resolution through the use of the ideas and energies of young people." Hugh Thompson, Ashuein's host counsellor from the Rotary Club of Redcliffe Sunrise, said members of the Club showed their interest and commitment to Ashuein and to the Peace Fellows Programme. Mr Thompson said, "We were pleased to involve Ashuein in our lives and be available to assist him so that he could maximise the opportunity he had to complete his studies and prepare for his next adventure on returning to Canada".
Hailing from Washington State, in the US, Shen Huang first qualified as an engineer and has worked to protect public health and solve environmental and energy challenges in low-income communities. A first generation Chinese-American, Shen holds a Bachelor of Science from the Massachusetts Institute of Technology (MIT) in Mechanical Engineering and has enjoyed exploring the connections between public health, water and sanitation, and peace and conflict during her MPACS studies. Shen was hosted by the Rotary Club of Woolloongabba (pictured here with her host Counsellor Ms Ros Kelly). During her Rotary Peace Fellowship Shen was a guest speaker at the Rotary Presidential Peace Symposium held in Sydney in March 2018. For further information on applying for a Rotary Peace Fellowship go to The Rotary Foundation's website.