25th World Conference of Political Science IPSA 2018 21-25 July 2018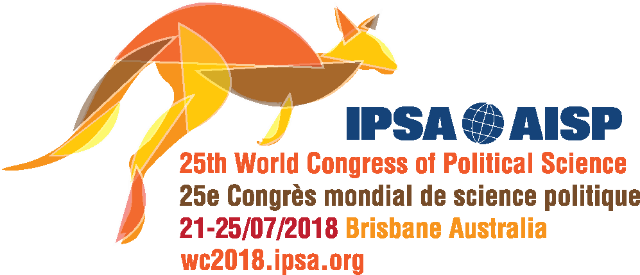 In July 2018, the School and University are one of the four Foundation sponsors of the 25th World Congress of the International Political Science Association, to be held at the Brisbane Convention and Exhibition Centre. Approximately 2400 delegates have registered from all around the world. The World Congress will integrate the annual conference of the Australian Political Studies Association, and the biennial Oceanic Conference on International Studies.
A feature of the program will be the Opening Ceremony on Sunday July 22. The Opening Ceremony will feature a Welcome to Country by Aunty Kerry Charlton, followed by a dance performance by Indigenous artists Nunukul Yuggera. The evening will be MCd by Professor Kath Gelber, who will welcome delegates to Brisbane. The final element of the Opening Ceremony is a jazz fusion performance by Cigany Weaver from the Griffith Conservatorium, accompanied by a photo montage curated by the Visual Politics Strategic Research Program at UQ, led by Dr Emma Hutchinson and Prof Roland Bleiker. Official guests at the Opening Ceremony include DVC (Academic), Prof Joanne Wright and Pro Vice Chancellor Prof Tim Dunne.
The first keynote of the World Congress will feature Australia's contributions to democratic electoral practices globally, and will be presented by ABC's election analyst, Antony Green, in conjunction with noted scholar of voting rights, Professor Lisa Hill (Adelaide).
The Congress will feature a film series curated by Prof James Der Derian (Sydney), and will showcase the findings from Prof Pippa Norris' Electoral Integrity Project (Sydney).
The World Congress will also provide an opportunity for students to volunteer as helpers around the venue, which gives them access to all sessions as observers.
Prof Kath Gelber
Chair, Local Organising Committee