2018 Book Launch with the Honourable Paul Keating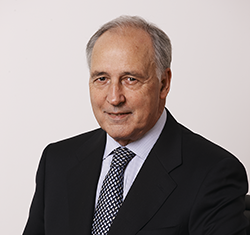 The school was honored to have the Honourable Paul Keating launch 'Fair Share - Competing Claims and Australia's Economic Future' a book co-authored by Professor Stephen Bell, from UQ's School of Political Science and International Studies, and Dr Michael Keating AC, former Secretary of the Deparment of the Prime Minister and Cabinet (1991-1996). The book examines the urgent economic challenges Australia now confronts and critically assesses the country's political capacity to effectively address these challenges.
Customs House was buzzing with anticipation as over 250 attendees were keen to hear the Honourable Paul Keating draw on his immense experience as former Prime Minister and Treasurer of Australia to provide a unique insight into the economic challenges posed in 'Fair Share: Competing Claims and Australia's Economic Future'. To hear the address - click on the link below.
The address by the former Prime Minister to launch 'Fair Share; Competing Claims and Australia's Economic Future' at Customs House, Brisbane on 15 March 2018​