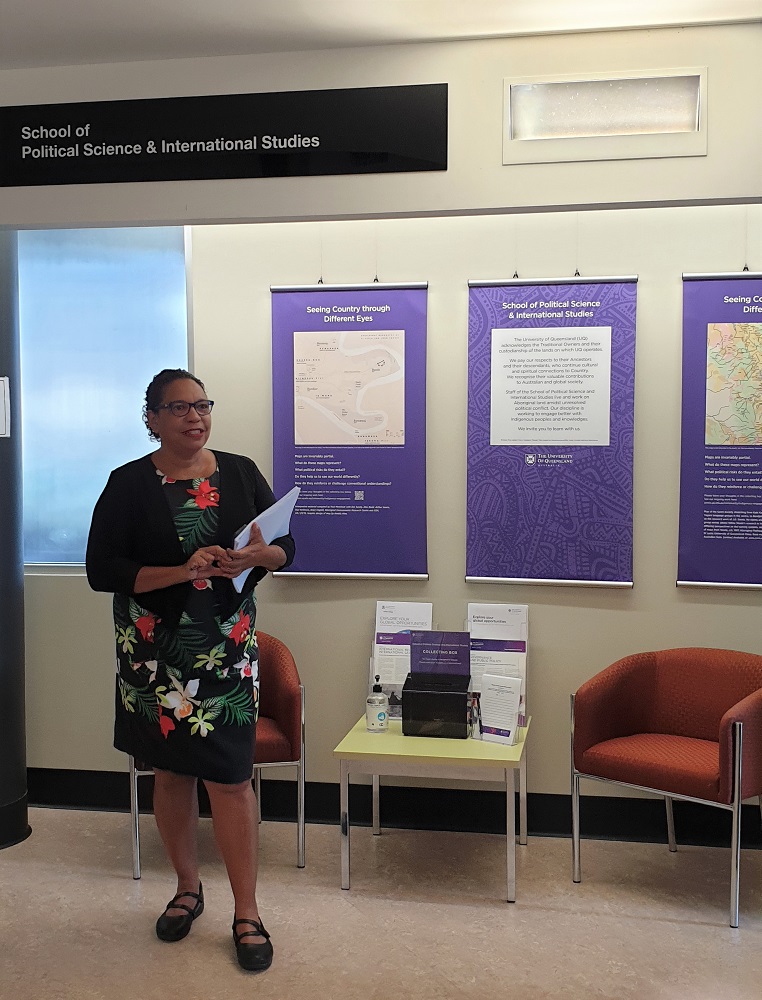 On 11 November 2020, the Associate Dean (Indigenous Engagement) at the Faculty of Humanities and Social Sciences, Associate Professor Sandra Phillips, launched a new foyer display in the School of Political Science and International Studies. The display is entitled, 'Seeing Country Through Different Eyes'. It acknowledges that staff of the School live and work on Aboriginal land amidst unresolved political conflict.
The display acknowledges and pays respect to the Aboriginal traditional owners of the land on which the School conducts its work. It forms part of the School's ongoing endeavours to engage meaningfully with Indigenous perspectives and knowledges.
The central banner features UQ's Acknowledgement of Country followed by text reflecting the School's work and disciplinary focus.   The outer banners contain two partial maps which evoke the "different eyes" through which Country can be seen.  The first map is drawn from interpretive material compiled by Paul Memmott with Des Sandy, Alex Bond, Arthur Isaacs, Ray Kerkhove, Brian Coghill, Aboriginal Environments Research Centre and ISSR (UQ) in 2016, and graphically designed by Amelia Hine.  The second is a map of the Goori Society stretching from Kabi Kabi and Batjala language groups in the north, across Yagara language groups in the centre, to Bandjalang language groups in the south, with map content based on the research work of J.G. Steele in the 1970s and 1980s.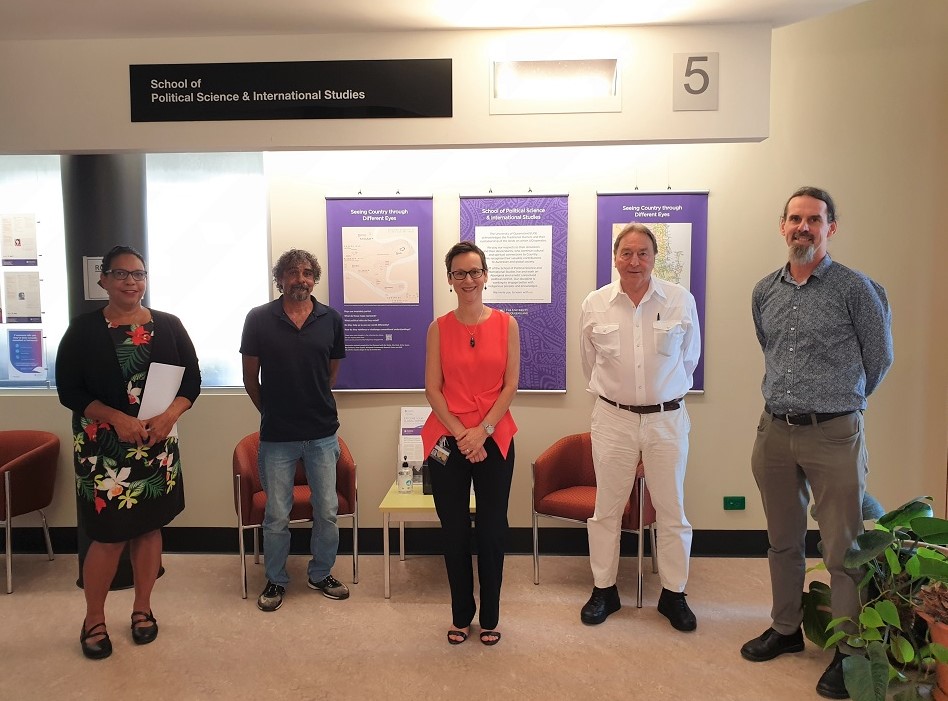 The installation is intended to evoke thought and discussion. Anyone passing through the Level 5 Foyer of General Purpose North (39A) is invited to engage with this new display by placing comments in a collection box.
Pictured: (top-right) Associate Professor Sandra Phillips; (bottom) Associate Professor Sandra Phillips, Alex Bond, Professor Katharine Gelber, Professor Paul Memmott, Associate Professor Morgan Brigg