Digital Power and the State: the case of Robodebt - Professor Paul Henman (UQ)
Professor Paul Henman holds degrees in sociology, social policy, computer science and education. His main research interest is the nexus between social policy, administration and digital information technologies.
His research interests include: social policy; welfare state; welfare reform; e-government; the administration of policy; costs of raising children.
Social policy; electronic government; internet studies; costs of children; welfare state; living standards & wellbeing.
About School Research Seminar Series
This series brings together the School's research community and domestic as well as international leaders in the field of politics and international affairs. Across each semester, the series showcases a diverse and exciting range of topics. All are welcome to attend.
For any inquiries, please contact Emily Sievers (polsis.ea@uq.edu.au). 
Please note that many past research seminars are recorded and are available online. 
The Research Seminar Series program for Semester 1, 2023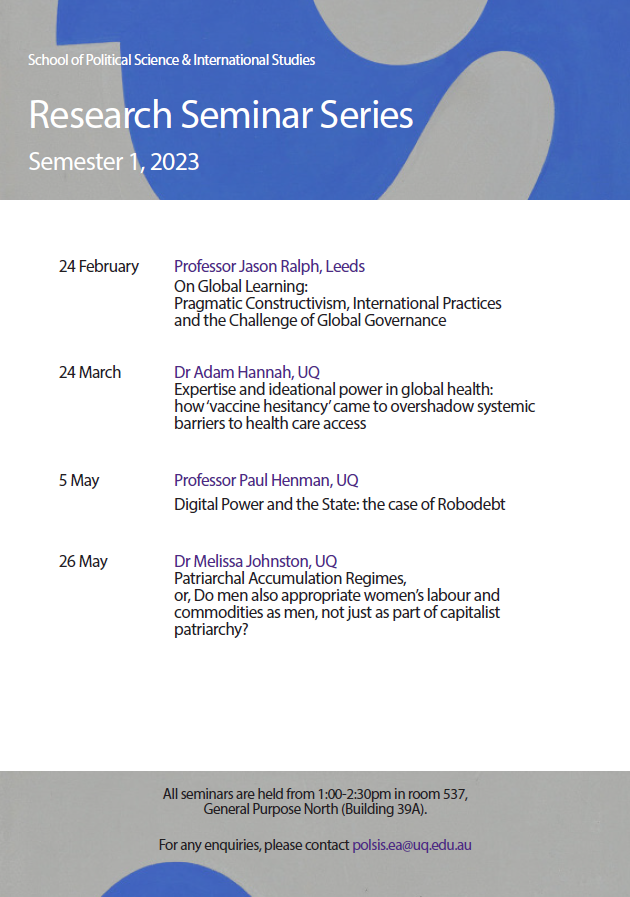 Artwork: Forme bleue (1935) by Sophie Taeuber-Arp