Presented by Associate Professor Matt McDonald (The University of Queensland)
Matt McDonald is Associate Professor of International Relations at the University of Queensland, having previously worked at the University of Warwick and Birmingham in the UK and the University of New South Wales in Australia. His research interests are in the area of critical theoretical approaches to security and their application to a range of issues, especially climate change. He has published widely on these themes and is the author of Security, the Environment and Emancipation (Routledge 2012), co-author of Ethics and Global Security (Routledge 2014) and most recently the author of Ecological Security: Climate Change and the Construction of Security (Cambridge 2021). He is currently completing an ARC-funded project examining comparative national approaches to the security implications of climate change. And he thinks climate change is bad. Like, really bad.
All are welcome to attend. The seminars are held on campus in room 39A-537.
---
About School Research Seminar Series
This series brings together the School's research community and domestic as well as international leaders in the field of politics and international affairs. Across each semester, the series showcases a diverse and exciting range of topics. All are welcome to attend.
For any inquiries, please contact Emily Sievers (polsis.ea@uq.edu.au). 
Please note that many past research seminars are recorded and are available online. 
The Research Seminar Series program for Semester 1, 2023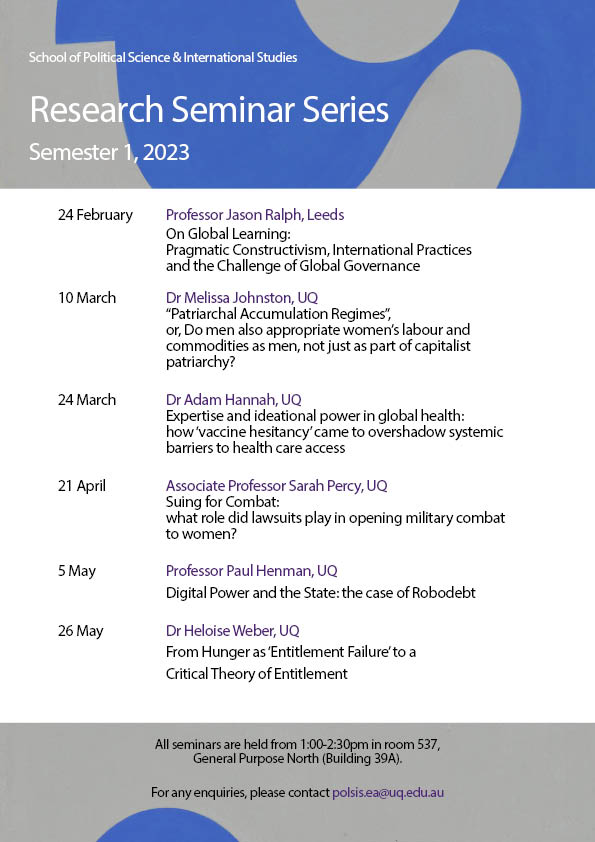 Artwork: Forme bleue (1935) by Sophie Taeuber-Arp