Presented by Ellie Martus (Griffith University)
Discussant: Professor Alex Bellamy
Join us on campus, in room 39A-537, or join us online via Zoom: https://uqz.zoom.us/j/88022734580
---
Bio:
Dr Ellie Martus is Lecturer in Public Policy in the School of Government and International Relations at Griffith University.

Working across environmental politics and public policy with area expertise in Russia and the former Soviet Union, Ellie's research focuses on the role of industry in shaping environmental policymaking and the issue of environmental capacity and governance in the post-Soviet space. Her current research examines the politics of climate change in Russia and the challenges of decarbonisation.

Ellie received her PhD in Politics from the University of New South Wales, and then held a WIRL-Marie Skłodowska-Curie COFUND Research Fellowship at the Institute of Advanced Studies, University of Warwick. She has previously held visiting positions at the University of Helsinki's Aleksanteri Institute, the Higher School of Economics in Moscow, and the Australian National University.
About School Research Seminar Series
This series brings together the School's research community and domestic as well as international leaders in the field of politics and international affairs. Across each semester, the series showcases a diverse and exciting range of topics. All are welcome to attend.
For any inquiries, please contact Emily Sievers (polsis.ea@uq.edu.au). 
Please note that many past research seminars are recorded and are available online. 
The Research Seminar Series program for Semester 1, 2023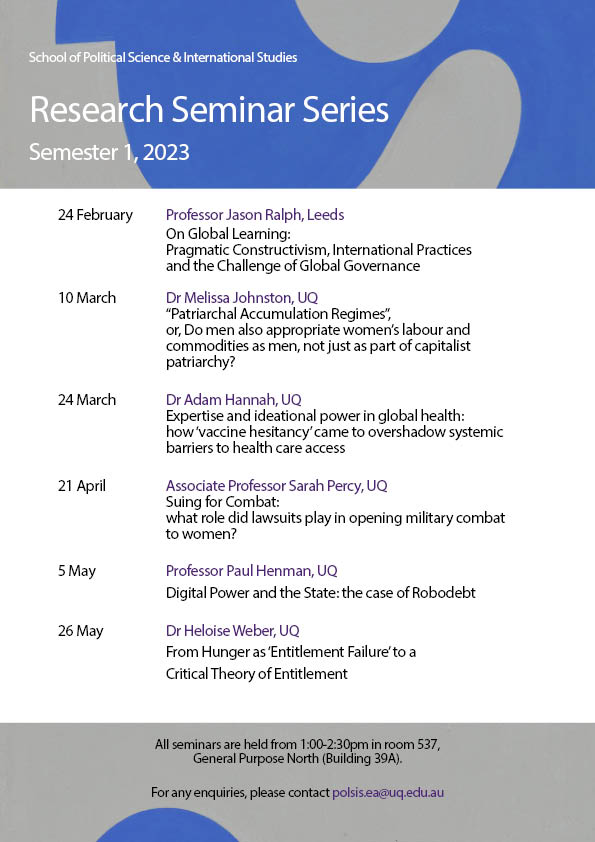 Artwork: Forme bleue (1935) by Sophie Taeuber-Arp