Scrutinising the Figure of the 'International Community'
29 April 2022

12:30pm

–

2:00pm
Presented by Dr Katrin Travouillon (Australian National University)
Discussant: Associate Professor Nicole George
Join us on campus, in room 39A-537, or join us online via Zoom: https://uqz.zoom.us/j/83312986687
---
Bio:
Dr. Katrin Travouillon is a Lecturer at the Department of Political and Social Change (Coral Bell School of Asia Pacific Affairs, ANU). Her research centres on the discursive and affective dimension of political change in Cambodia after the UN Transitional Authority (UNTAC 1992-1993). She is particularly interested in how the liberal peacebuilding project has shaped political ideas, identities, and interactions between domestic and international actors. Since 2019, Dr. Travouillon is a member of the editorial team of the Journal of Intervention and Statebuilding, a publication committed to critical analysis of international interventions, focusing on interactions and practices that influence and transform states and societies. Her work has appeared in Contemporary Southeast Asia, Peacebuilding, and Review of International Studies, among others. 
About School Research Seminar Series
This series brings together the School's research community and domestic as well as international leaders in the field of politics and international affairs. Across each semester, the series showcases a diverse and exciting range of topics. All are welcome to attend.
For any inquiries, please contact Emily Sievers (polsis.ea@uq.edu.au). 
Please note that many past research seminars are recorded and are available online. 
The Research Seminar Series program for Semester 1, 2023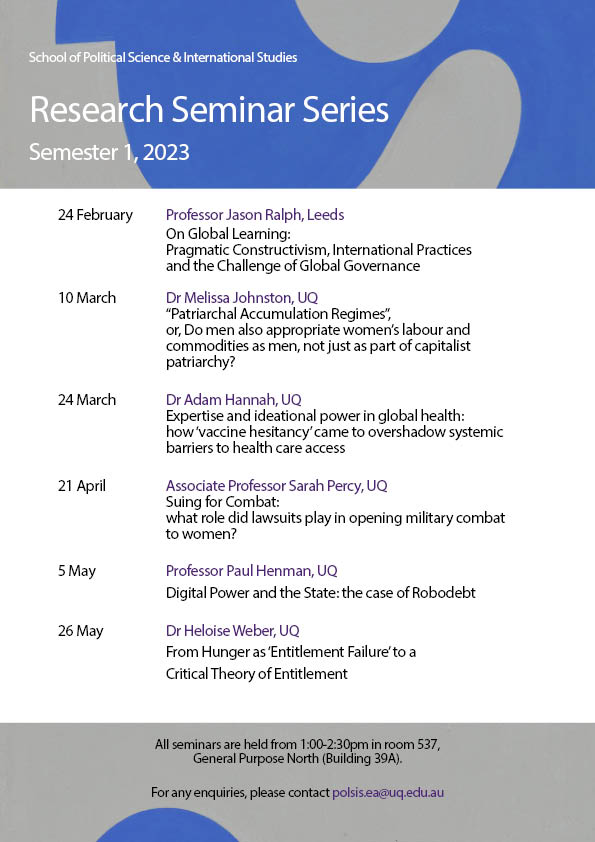 Artwork: Forme bleue (1935) by Sophie Taeuber-Arp