Presented by Dr Ferran Martinez i Coma (Griffith University)
Discussant: Dr Frank Mols
Join us on campus, in room 39A-537, or join us online via Zoom: https://uqz.zoom.us/j/87336232320
---
Bio:
Dr Ferran Martinez i Coma is Senior Lecturer and Director, Engagement in the School of Government and International Relations. An applied political scientist with consulting, public policy, research and teaching experience, his current research specialises in elections, electoral integrity, comparative politics, political parties and electoral behaviour. Before Griffith, Ferran worked at the University of Sydney within the Electoral Integrity Project and at the Centro de Investigaciones y Docencia Economicas (CIDE) in Mexico City.  
His academic work has appeared in Party Politics, Electoral Studies, Democratization, European Journal of Political Research, West European Politics, Nations and Nationalism or PS Political Science & Politics. He has also published with colleagues in economics and sociology. Ferran has co-authored 3 books and co-edited another 3.  
Ferran has also been a policy practitioner at the national – as a Senior Adviser in the Policy Unit of Spain's Prime Minister's office and as a Technical Adviser at the Ministry of Internal Affairs- and local level (as a Technical Adviser in the Departement of Studies and Evalution at Barcelona City Hall). He has written several policy reports for international organizations such as the Organisation of American States (OAS), International IDEA, and think tanks such as the Centre for American Progress (USA), Hanns Seidel Foundation (Germany, Namibia and Kenya) and Fundación Alternativas (Spain). Ferran regularly contributes for SBS in both domestic and international matters. He periodically writes in the blog Piedras de Papel in eldiario.es  
About School Research Seminar Series
This series brings together the School's research community and domestic as well as international leaders in the field of politics and international affairs. Across each semester, the series showcases a diverse and exciting range of topics. All are welcome to attend.
For any inquiries, please contact Emily Sievers (polsis.ea@uq.edu.au). 
Please note that many past research seminars are recorded and are available online. 
The Research Seminar Series program for Semester 1, 2023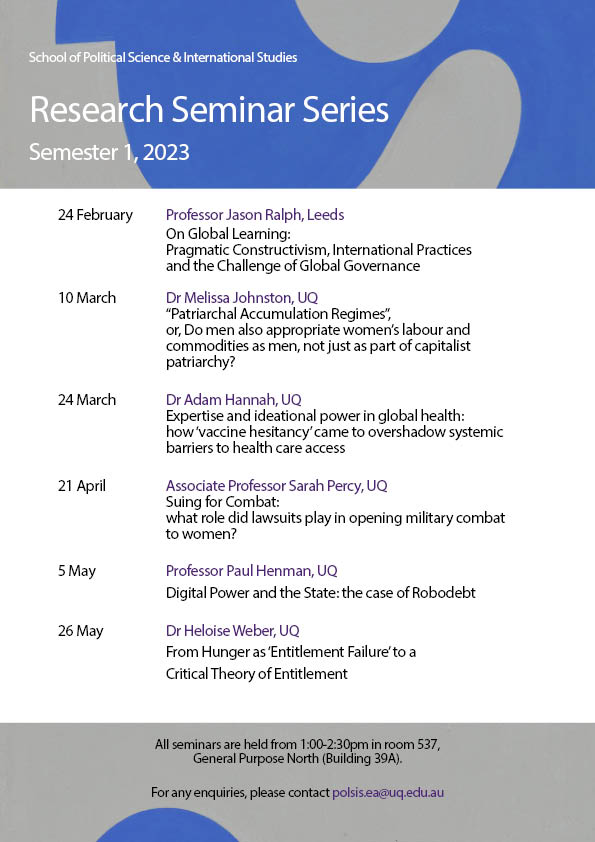 Artwork: Forme bleue (1935) by Sophie Taeuber-Arp