Theorising Indigenous Leadership in 21st Century Australia
11 March 2022

12:30pm

–

2:00pm
Presented by Dr Josephine Bourne (UQ)
Discussant: Dr Liz Strakosch
---
Bio: 
Josephine is a mainland Torres Strait Islander, born in Townsville, North Queensland.  She is a Gumulgal woman of Mabuiag Island through her father's ancestral line with links to Moa Island. On her mothers line Josephine's ancestry links to Badu, Mer and Dawar Islands. Her research interests focus on governance, leadership and organisational development by Aboriginal and/or Torres Strait Islander peoples. 

Josephine has a history of working with other First Nations' leaders in Australia on the possibilities of policy reform at the national level. Josephine was involved in establishing the National Congress of Australia's First Peoples and served as a Co-Chair and later a member of its Ethics Council. Josephine was a member of the Expert Panel on Constitutional Recognition of Indigenous Australians. She was also a technical advisor, facilitator and co-convenor at the regional dialogues leading up to the Uluru Convention that produced the Uluru Statement from the Heart. More recently, as a member of the Treaty Advancement Committee, Josephine has advised the Queensland state government on the next steps towards building a framework to support treaty-making among First Nation's groups and between First Nation's groups and the State. Josephine's research focusses on Indigenous-State relations (politics, policy and leadership) and possibilities for social change through public policy. Her research explores how Indigenous leaders use and modify contemporary governance mechanisms to achieve social change. This includes: (1) an examination of macro and micro forces that influence decisions and create paths to pursue Indigenous aspirations (2) consideration of the dynamics of Indigenous and non-Indigenous cultural values and principles that inform the work directly and indirectly (3) creating a policy environment to support Indigenous nation building for self-governance and the development of hybrid governance mechanisms. Josephine is co-author of Australian Politics in the second edition of Twenty-First Century: Old Institutions, New Challenges (Cambridge University Press, 2022, forthcoming).  
About School Research Seminar Series
This series brings together the School's research community and domestic as well as international leaders in the field of politics and international affairs. Across each semester, the series showcases a diverse and exciting range of topics. All are welcome to attend.
For any inquiries, please contact Emily Sievers (polsis.ea@uq.edu.au). 
Please note that many past research seminars are recorded and are available online. 
The Research Seminar Series program for Semester 1, 2023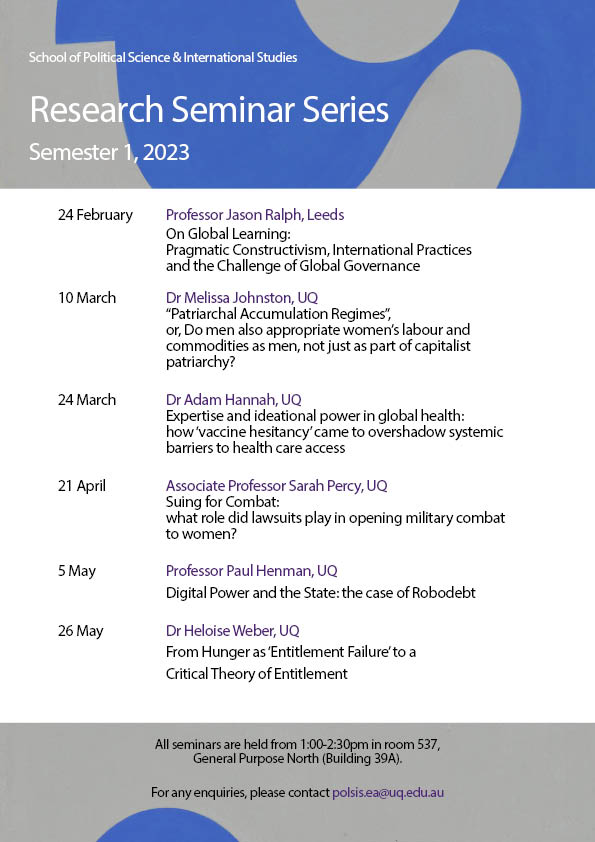 Artwork: Forme bleue (1935) by Sophie Taeuber-Arp
Venue
Online: https://uqz.zoom.us/j/81935579620