Presented by Professor Michael Mintrom (Monash University)
Discussant: Professor Kath Gelber
---
Bio:
Michael Mintrom is a Professor of Public Policy at Monash University, where he serves as the inaugural Director of Better Governance and Policy – a university-wide initiative to promote impact of policy-related research. He holds a PhD in Political Science from the State University of New York – Stony Brook. His books include Policy Entrepreneurs and Dynamic Change (Cambridge University Press, 2019), Public Policy: Investing for a Better World (Oxford University Press, 2019) and a co-edited collection, Successful Public Policy: Lessons from Australia and New Zealand (ANU Press, 2019). He has recently been exploring how local practices can support broader transitions. His developing collaborative research on robots in the public space considers how policymaking can become more anticipatory through stakeholder engagement and design thinking.
About School Research Seminar Series
This series brings together the School's research community and domestic as well as international leaders in the field of politics and international affairs. Across each semester, the series showcases a diverse and exciting range of topics. All are welcome to attend.
For any inquiries, please contact Emily Sievers (polsis.ea@uq.edu.au). 
Please note that many past research seminars are recorded and are available online. 
The Research Seminar Series program for Semester 1, 2023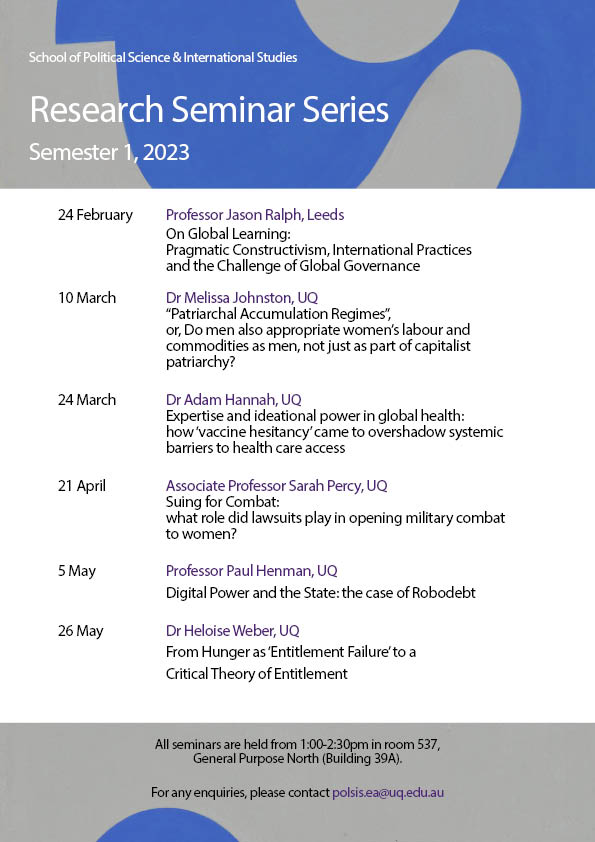 Artwork: Forme bleue (1935) by Sophie Taeuber-Arp