Dr Kelly Gerard
University of Western Australia
http://www.web.uwa.edu.au/people/kelly.gerard
Abstract
As part of the project of reforming ASEAN that has been underway for the past two decades, regional governance has been reconfigured around regulatory networks. This has entailed the vertical expansion of the organisation's political processes, with new spaces of regional governance created within states where actors harmonise and implement regional controls on domestic social and political structures. With these networks comprising a mix of actors from state agencies, civil society organisations, think-tanks, academia, and scientific communities, this reorganisation has also entailed the horizontal expansion of political processes. The history of ASEAN is arguably one of anti-politics by design, with the 'ASEAN Way' ensuring that power has been distributed among a very narrow set of social forces. Through the lens of the ASEAN Intergovernmental Commission on Human Rights (AICHR), this paper examines the impacts of ASEAN's reorganisation. Prevailing explanations of why and how ASEAN has come to govern human rights frame this as a process of normative change.  This paper departs from these by drawing on Gramscian state theory to examine how the rescaling and restructuring of human rights governance has empowered some social forces and constrained others. The paper demonstrates that the reconfiguring of political processes through the AICHR's establishment has provided ASEAN elites with a tool to manage the conflicts arising from activist's increased organisation around rights abuses and their subsequent challenges to governments. The paper thus argues that despite ASEAN elites' rhetorical shift towards inclusion and community, the AICHR's de-politicising impacts indicate this political project remains calibrated towards the defence of powerful interests. 
To listen to the seminar, please click here.
About School Research Seminar Series
This series brings together the School's research community and domestic as well as international leaders in the field of politics and international affairs. Across each semester, the series showcases a diverse and exciting range of topics. All are welcome to attend.
For any inquiries, please contact Emily Sievers (polsis.ea@uq.edu.au). 
Please note that many past research seminars are recorded and are available online. 
The Research Seminar Series program for Semester 1, 2023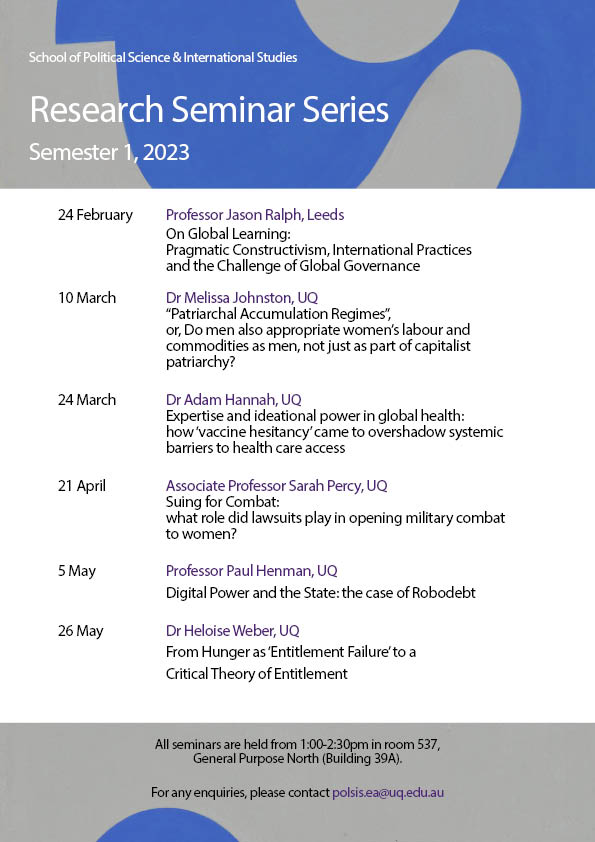 Artwork: Forme bleue (1935) by Sophie Taeuber-Arp