Professor Ian Clark
POLSIS/UQ
https://polsis.uq.edu.au/profile/100/ian-clark
Abstract
Recent developments in ethical theory have encouraged a growing disjunction between ethics and the law of war. This, in turn, has highlighted two different ways of thinking about just war: a 'normative' approach (in which ethics trumps law, as exemplified in the work of Jeff McMahan), and a 'sociological' view, focussed on a social practice in which ethics and law are deeply integrated. It has contributed also to a growing breakdown in communication. I establish the broad foundations on which these competing accounts are based, and then demonstrate how a series of specific debates (such as those about combatant equality, and drone warfare) reflect those different initial interpretations. I argue that those ethical theorists who have developed innovative understandings in this field have operated with a reductionist understanding of both 'justness' and 'war'. Those who start from the alternative sociological understanding are left bewildered as a result, and profoundly concerned that the privileging of ethics in this way may be bought at the price of the impoverishment of the law of war. At the very least, it is important to be aware of these competing languages of 'just war', and more urgently to recapture just war from this ethicist agenda.
To listen to the seminar, please click here.
About School Research Seminar Series
This series brings together the School's research community and domestic as well as international leaders in the field of politics and international affairs. Across each semester, the series showcases a diverse and exciting range of topics. All are welcome to attend.
For any inquiries, please contact Emily Sievers (polsis.ea@uq.edu.au). 
Please note that many past research seminars are recorded and are available online. 
The Research Seminar Series program for Semester 1, 2023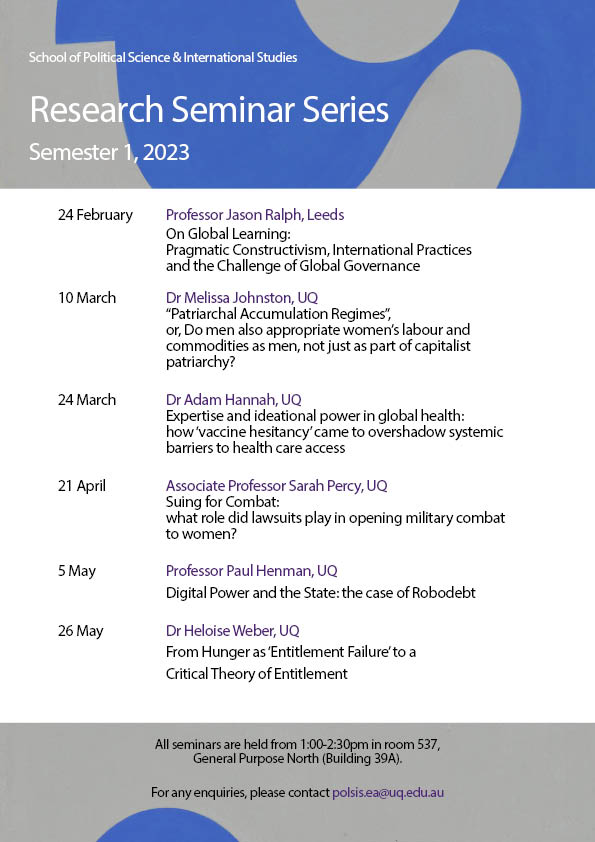 Artwork: Forme bleue (1935) by Sophie Taeuber-Arp