Online Roundtable on The Politics of Climate Change [Internal Staff ONLY]
11 September 2020

1:00pm

–

2:30pm
We have gathered three scholars from UQ who are all experts on climate change but who approach the issues from very different vantage points.  They will be discussing why climate change is a key challenge of our time and how their own research addresses the issue at stake.
We are keeping our normal time-slot of 1-2.30 and the format will be as followed: for the first 45 minutes I will be facilitating a dialogue between Dr Nina Lansbury Hall (School of Public Health, UQ), Associate Professor Matt McDonald (POLSIS, UQ) and Dr Martin Weber (POLSIS, UQ). In the second 45 minutes we will open it up for questions and comments from and debate with all participants.
The Zoom link has been emailed to staff. If you would like to attend this session, please get in touch with Professor Roland Bleiker, bleiker@uq.edu.au. 
About School Research Seminar Series
This series brings together the School's research community and domestic as well as international leaders in the field of politics and international affairs. Across each semester, the series showcases a diverse and exciting range of topics. All are welcome to attend.
For any inquiries, please contact Emily Sievers (polsis.ea@uq.edu.au). 
Please note that many past research seminars are recorded and are available online. 
The Research Seminar Series program for Semester 1, 2023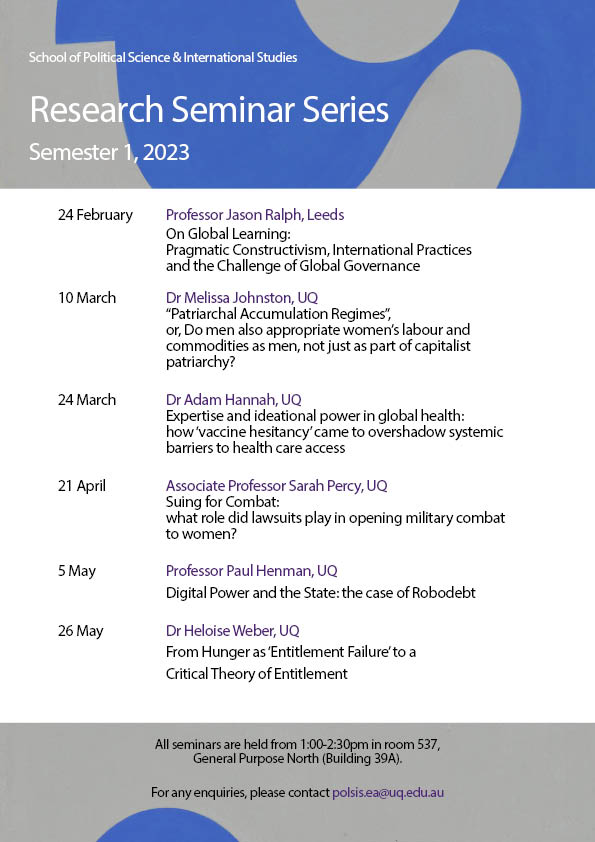 Artwork: Forme bleue (1935) by Sophie Taeuber-Arp