How Women's Protests Influence Gender Attitudes in Young People
14 February 2020

1:00pm

–

2:30pm
Presented by Professor Lee Ann Banaszak (Pennsylvania State University).
Current comparative analyses of gender attitudes among youth largely focus on individual-level characteristics. Understudied is the role of women's movement activity in adolescents' gender attitudes. This paper investigates how women's movement protests reported in national news shape young citizens' gender attitudes across 32 countries. Using the IEA International Civic and Citizenship Study survey data, we test whether women's protests have a positive impact on egalitarian gender attitudes among adolescents.
Lee Ann Banaszak is Professor of Political Science and Women, Gender and Sexuality Studies at the Pennsylvania State University. She currently serves as the Department Head in Political Science. Her research focuses on social movements, protest, gender and public opinion in a comparative perspective. She is the author of The Women's Movement Inside and Outside the State (Cambridge, 2010), Why Movements Succeed or Fail (Princeton, 1996) and recently edited 100 Years of the Nineteenth Amendment with Holly McCammon (Cambridge, 2018).
About School Research Seminar Series
This series brings together the School's research community and domestic as well as international leaders in the field of politics and international affairs. Across each semester, the series showcases a diverse and exciting range of topics. All are welcome to attend.
For any inquiries, please contact Emily Sievers (polsis.ea@uq.edu.au). 
Please note that many past research seminars are recorded and are available online. 
The Research Seminar Series program for Semester 1, 2023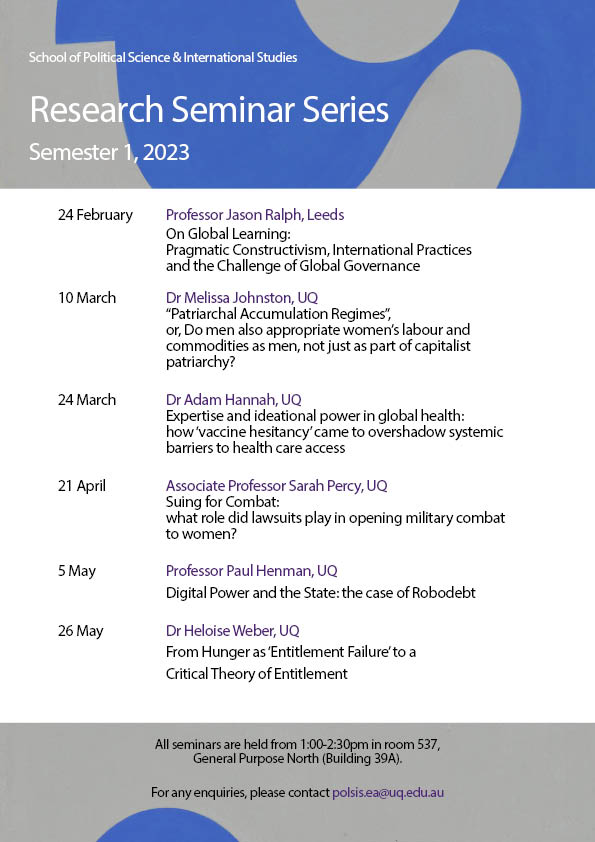 Artwork: Forme bleue (1935) by Sophie Taeuber-Arp