Radical Interpretivism and the Practice Turn in International Relations
23 August 2019

1:00pm

–

2:30pm
Abstract: In Practice Theory in International Relations (CUP 2018) Silviya Lechner and I challenge the "Practice Turn" as it has developed in IR for its conflation of actions and practices.  On our radical interpretivist view, actions can only be understood within social practices taking into account their ethical components. I shall elaborate on the striking implications of this interpretation.
Bio: Mervyn Frost is Professor of International Relations in the Department of War Studies at King's College London and Distinguished Professorial Fellow of International Ethics at the University of New South Wales in Canberra. His recent work, with Dr Silviya Lechner, is focused on the "practice turn" in International Relations including The Practice Turn and International Relations (CUP 2018); "Two Conceptions of International Practice: Aristotelian praxis or Wittgensteinian language-games?"  Review of International Studies Volume  42 / Issue 02 / April 2016, pp 334 – 350; and "Understanding international relations from the internal point of view" July 2015, Journal of International Political Theory. p. 1-21.
About School Research Seminar Series
This series brings together the School's research community and domestic as well as international leaders in the field of politics and international affairs. Across each semester, the series showcases a diverse and exciting range of topics. All are welcome to attend.
For any inquiries, please contact Emily Sievers (polsis.ea@uq.edu.au). 
Please note that many past research seminars are recorded and are available online. 
The Research Seminar Series program for Semester 1, 2023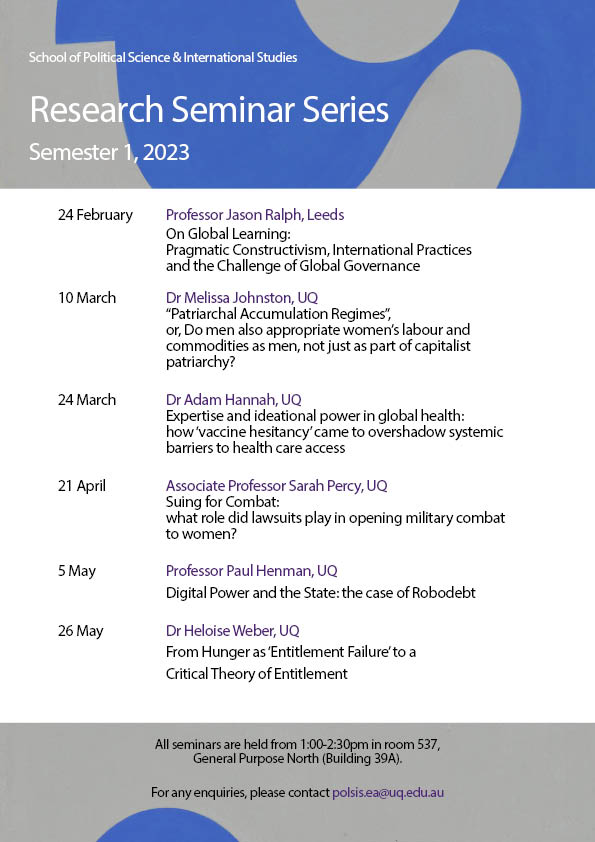 Artwork: Forme bleue (1935) by Sophie Taeuber-Arp
Venue
Building: General Purpose North (39A)
St Lucia Campus