Crimes Against Biodiversity: A Framework for Addressing Ecological Harm
25 October 2019

1:00pm

–

2:30pm
Presented by Dr Stefanie Fishel (University of Sunshine Coast) 
Given the urgency of the global biodiversity crisis, member states of the United Nations need to develop and adopt a new statute of international criminal law: Crimes Against Biodiversity. This project aims to develop an understanding and description of this crime, along with proposals to legislate, investigate and prosecute such crimes in practice. It aims to establish the key elements of the crime and develops a legal, governance and philosophical framework as a tool for the protection of biodiversity.
Stefanie Fishel is a Lecturer in Politics and International Relations at the University of the Sunshine Coast. Her research engages political ecology and environmental humanities, using feminist approaches to theorize biodiversity and earth system governance. She is co-author of "Planet Politics' in Millennium: Journal of International Studies. Dr. Fishel's book, The Microbial State: Global Thriving and the Body Politic, is available through the University of Minnesota Press.
About School Research Seminar Series
This series brings together the School's research community and domestic as well as international leaders in the field of politics and international affairs. Across each semester, the series showcases a diverse and exciting range of topics. All are welcome to attend.
For any inquiries, please contact Emily Sievers (polsis.ea@uq.edu.au). 
Please note that many past research seminars are recorded and are available online. 
The Research Seminar Series program for Semester 1, 2023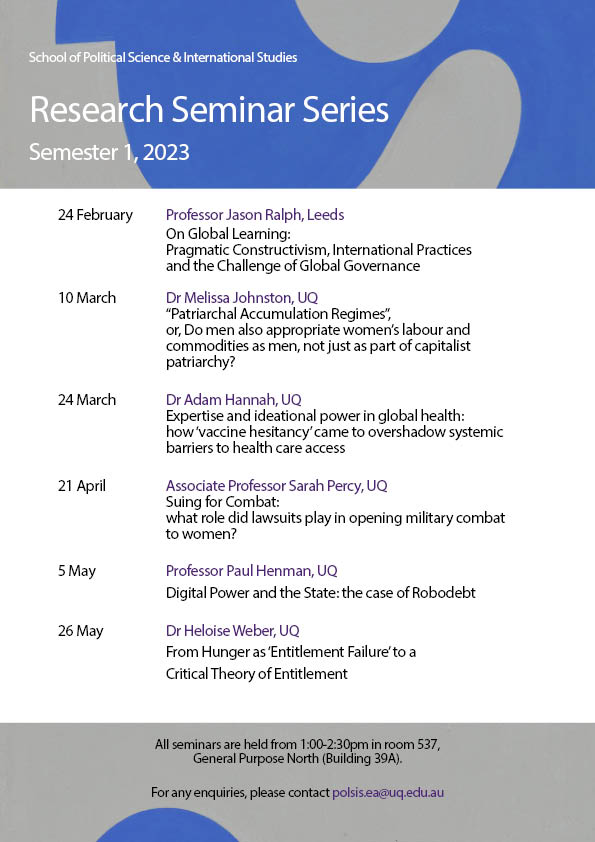 Artwork: Forme bleue (1935) by Sophie Taeuber-Arp