Exploring the 'Ethical Loneliness' of Indigenous Childhoods in Australia
11 October 2019

1:00pm

–

2:30pm
Presented by Dr Sana Nakata, (University of Melbourne)
Philosopher Jill Stauffer writes that 'ethical loneliness is the experience of being abandoned by humanity compounded by the experience of not being heard' in an effort to explore pathways beyond an unforgivable past. This paper considers the possibilities this concept holds for developing a critical account Indigenous Australian childhood.  The key questions to be asked are: Can the abandoned be represented? Can the silent be heard? Is there a pathway beyond the unforgivable past (and present) of Australia?
Biography
Dr Sana Nakata is a Torres Strait Islander who lives and work on Naarm, as Co-Director of the Indigenous-Settler Relations Collaboration and Lecturer in Political Science at The University of Melbourne.
About School Research Seminar Series
This series brings together the School's research community and domestic as well as international leaders in the field of politics and international affairs. Across each semester, the series showcases a diverse and exciting range of topics. All are welcome to attend.
For any inquiries, please contact Emily Sievers (polsis.ea@uq.edu.au). 
Please note that many past research seminars are recorded and are available online. 
The Research Seminar Series program for Semester 1, 2023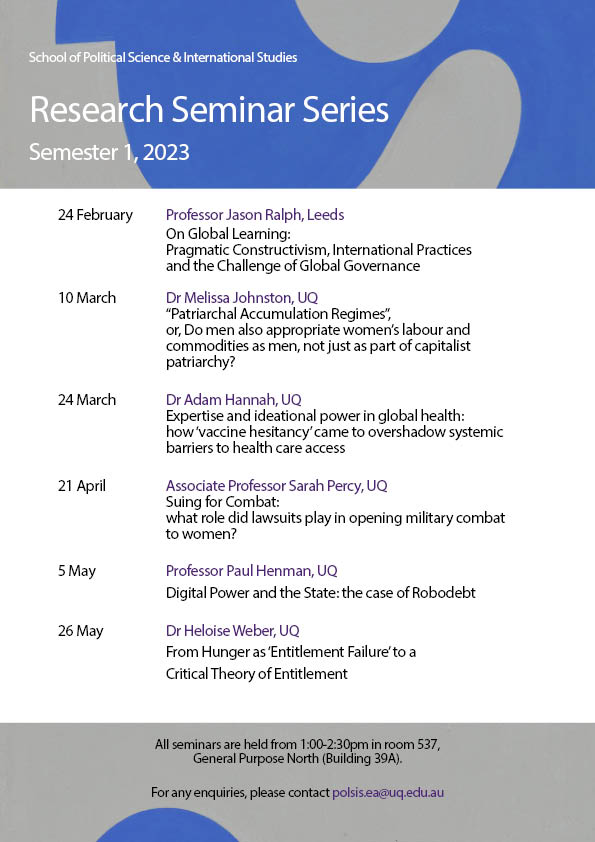 Artwork: Forme bleue (1935) by Sophie Taeuber-Arp