Presented by Professor Ole Wæver (University of Copenhagen) 
Thirty years after coining the concept of securitization, Ole Wæver revisits the Copenhagen School's theoretical engine, speech act theory. Securitization studies have grown several branches. J.L. Austin's radical idea of illocution is key to realising its full analytical potential (eg. for the study of visual security) and progressive political effects. The talk recovers the original performative theory of speech acts from beneath generations of unfortunate 'improvements' and shows what potential a speech-act approach holds for addressing contemporary security challenges.
Ole Wæver, Ph.D., Dr.h.c., is Professor of International Relations at the University of Copenhagen and Director of the Center for Resolution of International Conflicts. Recent publications include "Resolving International Conflict," co-ed with Isabel Bramsen and Poul Poder (Routledge, 2019) and "Assembling Exclusive Expertise," co-ed with Anna Leander (Routledge 2018).
About School Research Seminar Series
This series brings together the School's research community and domestic as well as international leaders in the field of politics and international affairs. Across each semester, the series showcases a diverse and exciting range of topics. All are welcome to attend.
For any inquiries, please contact Emily Sievers (polsis.ea@uq.edu.au). 
Please note that many past research seminars are recorded and are available online. 
The Research Seminar Series program for Semester 1, 2023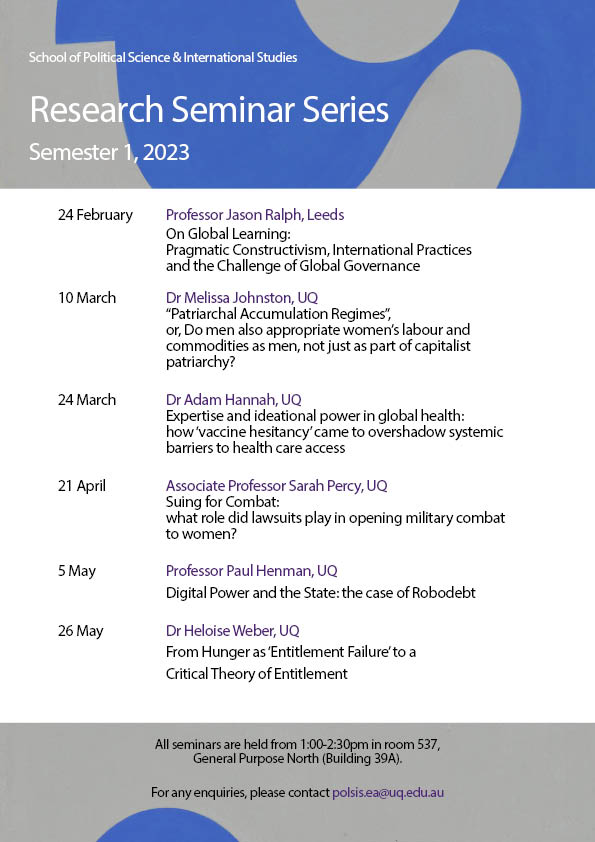 Artwork: Forme bleue (1935) by Sophie Taeuber-Arp