Security Mapping and Color Encoding: A Critical Cartography of Interventions
24 May 2019

1:00pm

–

2:30pm
Presented by Nicolas Lemay-Hebert (ANU)
Nicolas is a Fellow in the Department of International Relations. He graduated with his PhD in international relations from Sciences Po Paris (Institute for Political Studies in Paris) in 2010. Prior to joining ANU in 2019, Nicolas worked as an invited professor at the University of Quebec at Montreal and senior lecturer at the University of Birmingham. His current research interests include state-building and intervention issues in Asia/Pacific and beyond. He is particularly interested in local resistance to international interventions and the political economy of interventions. Nicolas has co-edited four books, including Semantics of Statebuilding: Language, Meanings and Sovereignty (Routledge, 2014); The Political Invention of Fragile States (Routledge, 2015); and Hybridity: Law, Culture and Development (Routledge, 2017). He is the co-editor of the Journal of Intervention and Statebuilding and the Routledge Studies in Intervention and Statebuilding.
Abstract 
Every international intervention comes with its own security regulations, which contribute in turn to structure the political geography of the intervention, delimiting areas of interaction between interveners and local population and shaping the political economy of intervention. The securitization of the everyday in interventions often take the form of colour-coded security zones (green, yellow and red; but also blue or white), with distinct security regulations for each. This presentation will analyse the specific everyday ramifications of the security mapping practices, focusing primarily on Haiti but also inquiring how these security regulations are shaping intervention practices in the Asia-Pacific region. Based on interviews conducted in Port-au-Prince in 2017 and 2018, the presentation will make three distinct arguments, underscoring the ramifications of mapping as a spatial practice of securitization. First, by channelling expatriates to specific locations in cities, and by preventing them from occupying other zones, the securitization practices contribute to the gentrification process in cities, contributing in their own way to the deep-rooted social segregation process. Second, it will analyse how these logics of securitization are linked to an 'imagined geography' of the cities, where actual security risks matter less than logics of disassociation from areas perceived as having no interest for international actors. Finally, the presentation will look at how security mapping is reappropriated and resisted by local actors, displaying a mix of resilience and self-help strategies. I hope to make a distinct contribution by linking critical cartography and international relations, especially the colour-coding and security mapping discussion with the securitization and intervention literature.
About School Research Seminar Series
This series brings together the School's research community and domestic as well as international leaders in the field of politics and international affairs. Across each semester, the series showcases a diverse and exciting range of topics. All are welcome to attend.
For any inquiries, please contact Emily Sievers (polsis.ea@uq.edu.au). 
Please note that many past research seminars are recorded and are available online. 
The Research Seminar Series program for Semester 1, 2023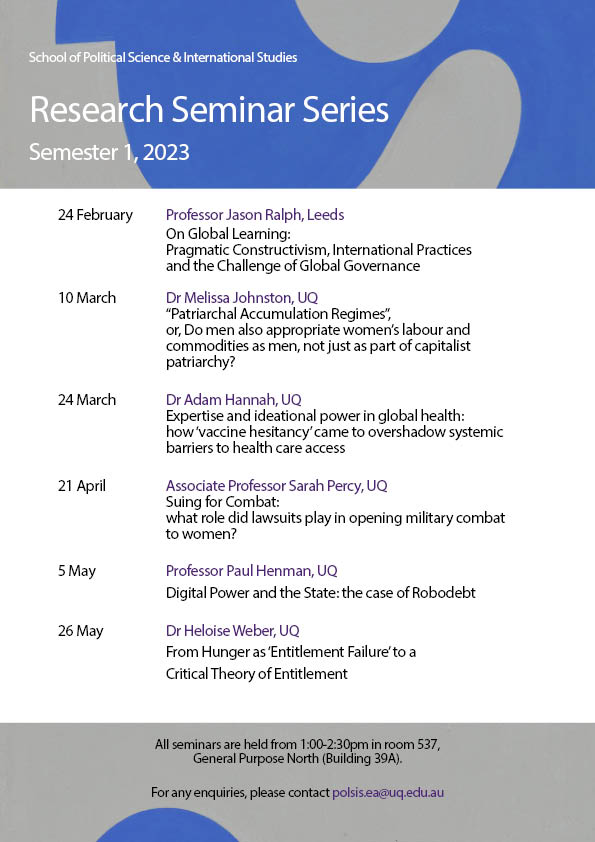 Artwork: Forme bleue (1935) by Sophie Taeuber-Arp