Security as politics: rethinking the security/politics relationship through parliamentary practice
22 March 2019

1:00pm

–

2:30pm
Based on his new research monograph, entitled Security as Politics: Beyond the State of Exception (Edinburgh University Press), Neal will argue – based on archival research and interviews at Westminster - that 'security' was once institutionalized as an anti-political 'exception' in liberal democracies but has now permeated 'normal' professional political life. This represents a direct challenge to critical security studies and securitization theory debates with their core assumption that security is a kind of illiberal and undemocratic 'anti-politics'. Neal will present some of the key findings from his UK work, then reflect on extending this research to the Australian political system. 
Andrew W. Neal is Senior Lecturer in Politics and International Relations and Co-Director of the Centre for Security Research (CeSeR) at the University of Edinburgh. His most recent monograph is Security as Politics: Beyond the State of Exception (Edinburgh University Press, 2019). He is also editor/contributing author of Security in a Small Nation: Scotland, Democracy, Politics (Open Book Publishers, 2017), and co-editor of Critical Security Methods: New Frameworks for Analysis (with Claudia Aradau, Jef Huysmans and Nadine Voelkner; Routledge 2014), amongst other works. He will be a visiting scholar at UQ until 19 April, where he is researching Australian parliamentary security politics.
About School Research Seminar Series
This series brings together the School's research community and domestic as well as international leaders in the field of politics and international affairs. Across each semester, the series showcases a diverse and exciting range of topics. All are welcome to attend.
For any inquiries, please contact Emily Sievers (polsis.ea@uq.edu.au). 
Please note that many past research seminars are recorded and are available online. 
The Research Seminar Series program for Semester 1, 2023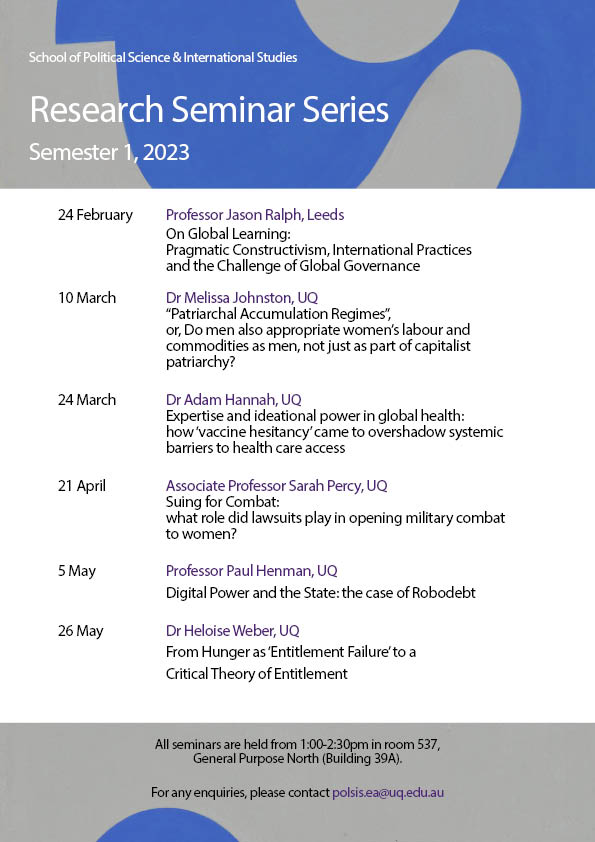 Artwork: Forme bleue (1935) by Sophie Taeuber-Arp