Exodus, Reckoning, Sacrifice: Three Meanings of Brexit
15 March 2019

1:00pm

–

2:30pm
Presented by Professor Kalypso Nicolaidis (University of Oxford)
Kalypso Nicolaïdis is Professor of International Relations and director of the Centre for International Studies at the University of Oxford. Her research interest revolve around theaters of mutual recognition, democratic theory, sustainable integration, myth and politics, post-colonial Europe. She was previously associate professor at Harvard University's Kennedy School of Government. Her last books are Echoes of Empire: Memory, Identity and Colonial Legacies (edited with Sebe and Maas, IB Tauris), Normative Power Europe Revisited (edited with Whitman, Journal Conflict and Cooperation) and European Stories: Intellectual Debates on Europe in National Context (ed w/ Lacroix, OUP, 2010).  She is a graduate of Sciences-Po (1982) and received her PhD from Harvard in 1993.
Abstract
The talk will take place a few days before the UK's scheduled departure from the EU but nobody knows at this stage whether the deed will happen. Irrespective of the uncertainty, Kalypso will present the themes of her upcoming book on Brexit entitled "Exodus, Reckoning, Sacrifice: Three Meanings of Brexit".  The talk will cover and update some of the book's themes including how archetypal myths can help us renew our democratic conversation, whether British exceptionalism is that exceptional, Brexit as bargaining pedagogy, the unveiling of liminal fates in the EU, will the UK get lost in transition, the meaning of a promise, the pervasiveness of post-Brexit endism, the price of hubris for those who stray, the value of principles and the story schisms, what is a perfect scapegoat, whether we can imagine a self-reflexive sacrifice, the importance of being former (member state),  and Brexit as the ultimate proof. She will also discuss what Brexit means for the UK's relations with Commonwealth countries.
The book is to be published in May 2019 and is still crowdfunded, here: https://unbound.com/books/exodus-reckoning-sacrifice/
About School Research Seminar Series
This series brings together the School's research community and domestic as well as international leaders in the field of politics and international affairs. Across each semester, the series showcases a diverse and exciting range of topics. All are welcome to attend.
For any inquiries, please contact Emily Sievers (polsis.ea@uq.edu.au). 
Please note that many past research seminars are recorded and are available online. 
The Research Seminar Series program for Semester 1, 2023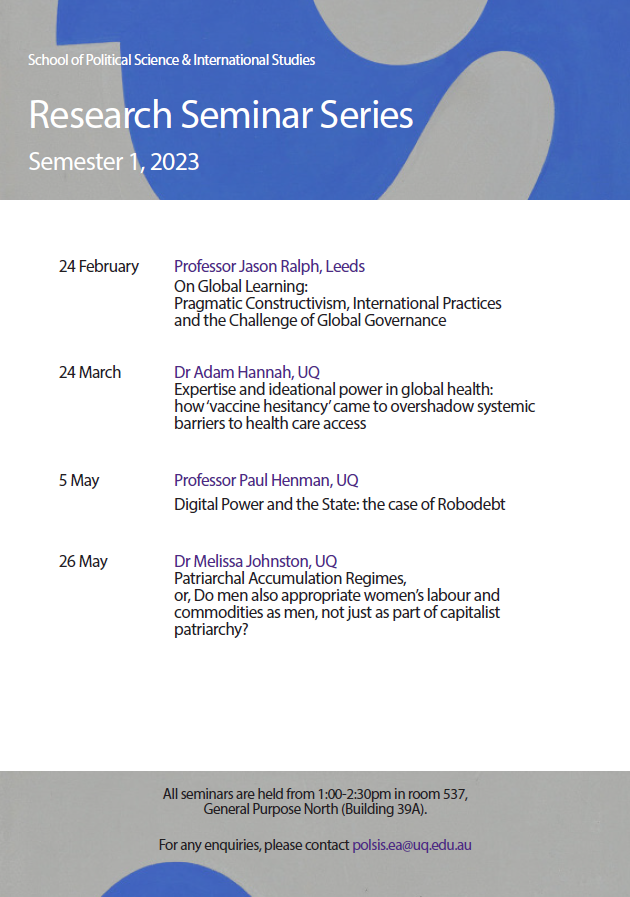 Artwork: Forme bleue (1935) by Sophie Taeuber-Arp