The End of History: A Metahistorical Sketch
1 March 2019

1:00pm

–

2:30pm
Presented by Dr Nicholas Heron (UQ)
Nicholas Heron is Research Fellow in the Institute for Advanced Studies in the Humanities at the University of Queensland. He is the author of Liturgical Power: Between Economic and Political Theology (Fordham, 2018), and the translator of Giorgio Agamben's Stasis: Civil War as a Political Paradigm (Stanford, 2015).
Abstract
This paper will offer a theoretical overview of a long-term research project that I am currently undertaking, which broadly pursues a history of the idea of the "end of history." Long considered moribund, discussion of the end of history has made a stunning, if often confused return to contemporary public debate, which makes the reassessment of its legacy all the more pressing. The attempt to historicise an idea that in its many and varied articulations almost always couches itself as an interpretation of past thought – to cite the best-known current, the line that runs from Fukuyama via Kojève back to Hegel – nonetheless poses certain methodological challenges, not least concerning where to locate the inception of new iterations of this idea, whether in the writings of the interpreters and their relevant contexts or in those of the works interpreted and their relevant contexts. This paper will explore how the approach of Begriffsgeschichte to the history of political thought pioneered by the late German historian Reinhart Koselleck has helped to meet some of these challenges. But it will also ask in conclusion whether the history of the end of history concept in fact reveals certain limitations in the approach of Begriffsgeschichte itself, with specific reference to its core heuristic: that of the Sattelzeit, literally the "saddle time," during which modern social and political concepts are understood to have assumed their current meanings.
About School Research Seminar Series
This series brings together the School's research community and domestic as well as international leaders in the field of politics and international affairs. Across each semester, the series showcases a diverse and exciting range of topics. All are welcome to attend.
For any inquiries, please contact Emily Sievers (polsis.ea@uq.edu.au). 
Please note that many past research seminars are recorded and are available online. 
The Research Seminar Series program for Semester 1, 2023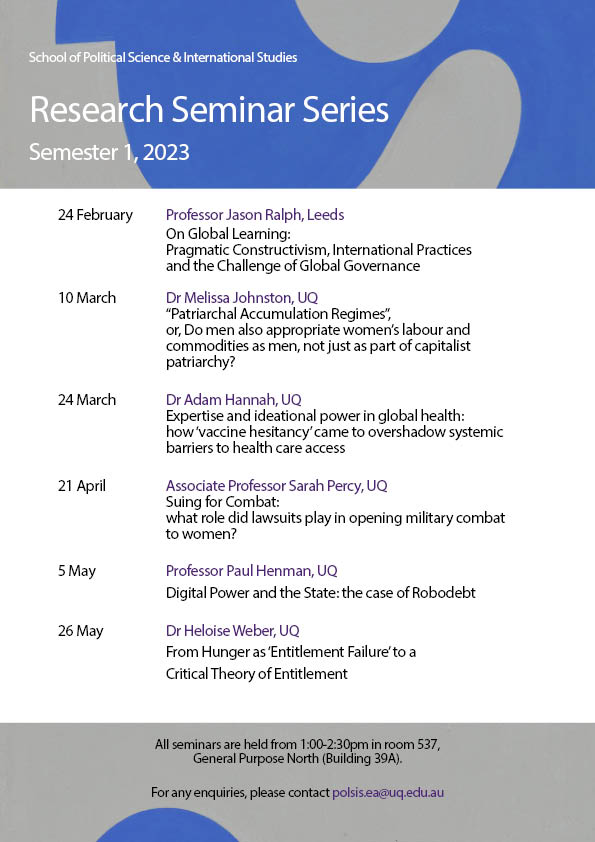 Artwork: Forme bleue (1935) by Sophie Taeuber-Arp