"Spatializing justice? Social memory activism in Timor-Leste and Aceh."
9 March 2018

1:00pm

–

2:30pm
Spatializing justice? Social memory activism in Timor-Leste and Aceh
Transitional justice policy makers and practitioners have become increasingly interested in social memory projects – initiatives to document, memorialise or commemorate the violent past. These initiatives are seen as offering reparative justice to victims, as well as benefiting the broader society by helping to promote the ideals of democratic dialogue, universal human rights and peace. In post-conflict environments where there is state-sanctioned amnesia (Ricoeur 2000) about aspects of the past, local non-government organisations (NGOs) are looked to as the imagined, alternative, actors who can foster grassroots forms of counter-remembering that deliberately challenge official silences.
In this paper I unsettle the assumed opposition between civil society and the state by examining the complex ways in which NGO-led social memory activism in Timor-Leste and Aceh is entangled with the 'imagining' of the state. Drawing on recent fieldwork, and engaging with the insights of critical human geographers, I suggest that this activism might be understood as an attempt to 'spatialize justice' through the disruption of dominant geographies of memory. At the same time, the 'methodological nationalism' (Mitchell 2007) that underpins this activism has the potential to overshadow diverse expressions of social memory. These contradictions speak to the degree to which transitional justice discourse and practice is integrally intertwined with the imagining of the state as an idealised space.
Dr. Lia Kent is a Fellow in the School of Regulation and Global Governance at the Australian National University. With a background in socio-legal studies, her research agenda is shaped by topics in critical peacebuilding, transitional justice and memory studies, and has a geographic focus on the Asia-Pacific. Much of her work is concerned with the discursive and material struggles that take place in the aftermath of conflict over questions of justice and memory, and what these reveal about broader questions of identity and power. Her current project, which is funded by an ARC Discovery Early Career Researcher Award, is entitled After Conflict: Memory Frictions in Timor-Leste and Aceh. Lia is the author of The Dynamics of Transitional Justice: International Models and Local Realities in East Timor (Routledge 2012), and has published widely in journals including the International Journal of Transitional Justice, the International Feminist Journal of Politics and Human Rights Quarterly.
For more see: http://regnet.anu.edu.au/our-people/academic/lia-kent
About School Research Seminar Series
This series brings together the School's research community and domestic as well as international leaders in the field of politics and international affairs. Across each semester, the series showcases a diverse and exciting range of topics. All are welcome to attend.
For any inquiries, please contact Emily Sievers (polsis.ea@uq.edu.au). 
Please note that many past research seminars are recorded and are available online. 
The Research Seminar Series program for Semester 1, 2023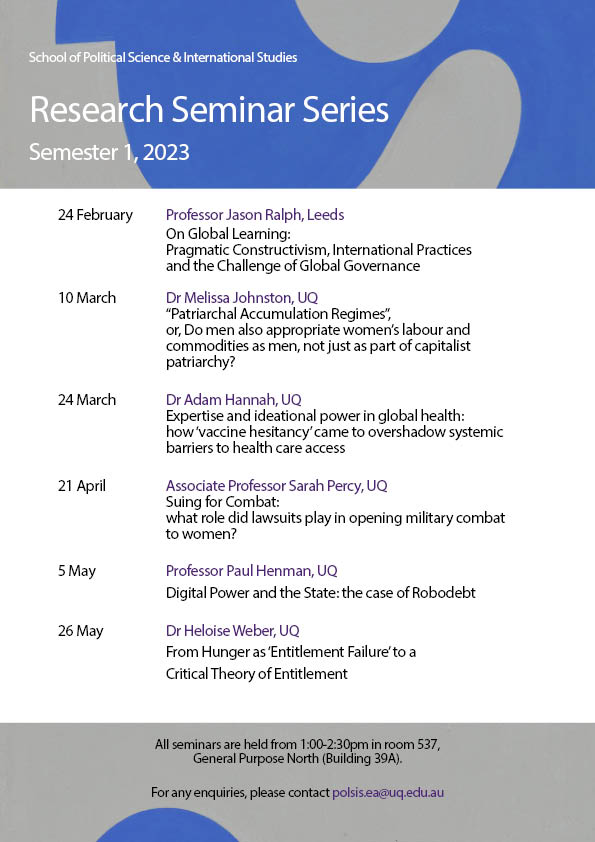 Artwork: Forme bleue (1935) by Sophie Taeuber-Arp