Is International Law International?
Presented by: Associate Professor Anthea Roberts, ANU College of Asia and the Pacific
This seminar paper introduces a study of the international legal academy that reveals some of the patterns of difference, dominance, and disruption that belie the field's claim to universality.
Pulling back the curtain on the "divisible college of international lawyers," Anthea Roberts explains how international lawyers in different states, regions, and geopolitical groupings are often subject to distinct incoming influences and outgoing spheres of influence in ways that reflect and reinforce differences in how they understand and approach international law. These divisions manifest themselves in contemporary controversies, such as debates about Crimea and the South China Sea.
Not all approaches to international law are created equal, however. Based on case studies and visual representations, Roberts explains how actors and materials from some states and groups have come to dominate certain transnational flows and forums in ways that make them disproportionately influential in constructing the "international." This point holds true for Western actors, materials, and approaches in general, and for Anglo-American ones in particular.
However, these patterns are set for disruption. As the world moves past an era of Western dominance and toward greater multi-polarity, it is imperative for international lawyers to understand the perspectives and approaches of those coming from diverse backgrounds. The paper concludes by encouraging readers to seek to see the world through the eyes of others – an essential skill in this fast changing world.
About School Research Seminar Series
This series brings together the School's research community and domestic as well as international leaders in the field of politics and international affairs. Across each semester, the series showcases a diverse and exciting range of topics. All are welcome to attend.
For any inquiries, please contact Emily Sievers (polsis.ea@uq.edu.au). 
Please note that many past research seminars are recorded and are available online. 
The Research Seminar Series program for Semester 1, 2023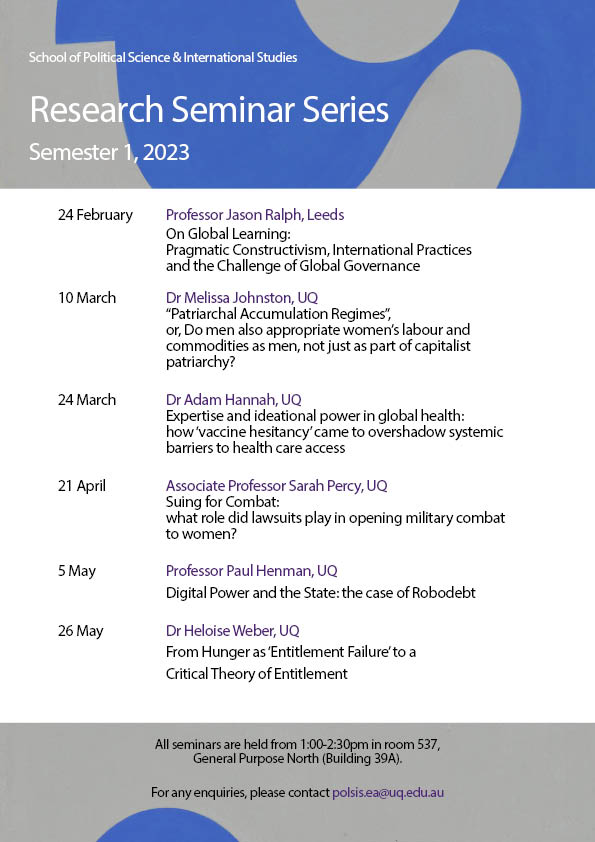 Artwork: Forme bleue (1935) by Sophie Taeuber-Arp