The Language of Colonial Violence : Humanitarian Narratives and the NSW Law Courts
The Language of Colonial Violence: Humanitarian Narratives and the NSW Law Courts
Presented by: Associate Professor Anna Johnston (IASH, UQ)
This paper analyses humanitarian narratives that emerged in response to violence in 1830s New South Wales, and their contribution to the antecedent history of human rights. The missionary Lancelot Threlkeld used his linguistic skills and access to Indigenous communities to collect and circulate testimony about violence and conflict. Threlkeld passed on such information in a variety of ways, for a variety of purposes, and through a diverse network of correspondence and print. This paper analyses how the language of colonial violence framed such testimony into humanitarian narratives, how it was mobilised for specific local and international effects, and how print culture mobilised (or countered) evidence of colonial conflict as part of broader debates about the British Empire, indigenous peoples, and the law.
This work develops my previous research on Lancelot Threlkeld, including my book The Paper War: Morality, Print Culture, and Power in Colonial New South Wales (University of Western Australia Press 2011). The ongoing research is funded by and related to both my ARC Future Fellowship "The Laboratory of Modernity: Knowledge Formation and the Australian Settler Colonies (1788-1900)" and my collaborative ARC Discovery project "Intimacy and Violence on the Anglo Pacific Rim 1830-1930."
About School Research Seminar Series
This series brings together the School's research community and domestic as well as international leaders in the field of politics and international affairs. Across each semester, the series showcases a diverse and exciting range of topics. All are welcome to attend.
For any inquiries, please contact Emily Sievers (polsis.ea@uq.edu.au). 
Please note that many past research seminars are recorded and are available online. 
The Research Seminar Series program for Semester 1, 2023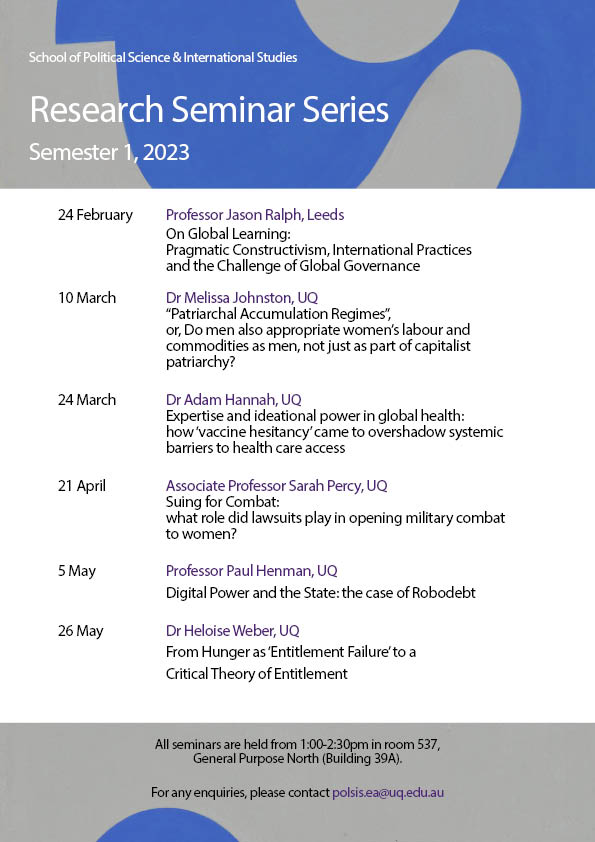 Artwork: Forme bleue (1935) by Sophie Taeuber-Arp