Interrogating Form and Function: Designing Effective National Human Rights Institutions
31 March 2017

1:00pm

–

2:30pm
Interrogating Form and Function: Designing Effective National Human Rights Institutions
Presented by: Dr Tom Pegram, University College London
National human rights institutions (NHRIs), defined as independent bodies tasked with promoting and monitoring human rights on the ground, have spread to over one hundred countries. But creating effective institutions is challenging, especially when these institutions are supposed to monitor and curb the excesses of the very governments that put them in place. We seek to understand what makes NHRIs effective, using an original dataset of twenty-two institutional features that are commonly found in NHRIs around the world, and case studies. We find that institutional features that that allow NHRIs to investigate complaints (such as the ability to receive individual complaints or compel testimony) are linked to multiple measures of NHRI effectiveness. In contrast, we do not find strong relationships between high NHRI performance and other types of institutional features emphasized in the literature, such as independence safeguards, promotional prerogatives and inclusiveness features. We find that institutional features matter most in democratic regimes, but we also see some effects under the more adverse conditions that characterize authoritarian and transition regimes.
About School Research Seminar Series
This series brings together the School's research community and domestic as well as international leaders in the field of politics and international affairs. Across each semester, the series showcases a diverse and exciting range of topics. All are welcome to attend.
For any inquiries, please contact Emily Sievers (polsis.ea@uq.edu.au). 
Please note that many past research seminars are recorded and are available online. 
The Research Seminar Series program for Semester 1, 2023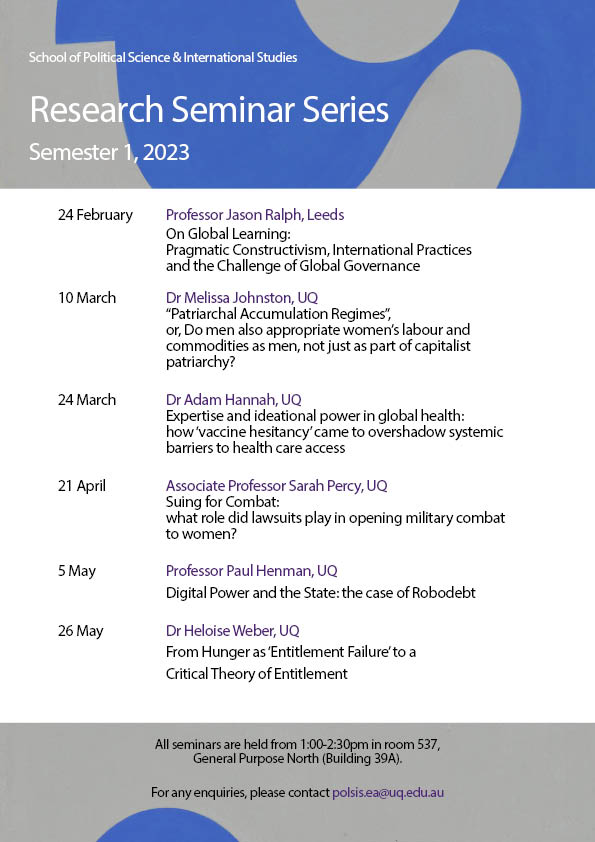 Artwork: Forme bleue (1935) by Sophie Taeuber-Arp