Riders on the storm: EU fiscal policy coordination and the Great Recession
15 April 2016

2:00pm

–

3:00pm
Friday 15th April - Dr Charlotte Rommerskirchen- Edinburgh University/ POLSIS Visiting Fellow
For the first time since the Maastricht Treaty heralded the coordination of macroeconomic policies among European Union Member States, public finances during the Great Recession were collectively focused on stimulus policies. Despite a fierce rhetoric of beggar-thy-neighbour policies, fiscal free-riding was kept at bay. Yet while member states were accusing each other of growth (stimulating 'too little') or stability free riding (simulating 'too much'), they overlocked the dangers associated with second-order free-riding. Without functioning internal incentives towards collective action, member states relied on financial markets to punish wayward members. The costs of this choice have been highly visible since the European Sovereign Debt Crisis erupted in late 2009. Continuing to rely on market discipline to bridle public finances, EU Member States persist in free-riding.  
To listen to the seminar, click here.
About School Research Seminar Series
This series brings together the School's research community and domestic as well as international leaders in the field of politics and international affairs. Across each semester, the series showcases a diverse and exciting range of topics. All are welcome to attend.
For any inquiries, please contact Emily Sievers (polsis.ea@uq.edu.au). 
Please note that many past research seminars are recorded and are available online. 
The Research Seminar Series program for Semester 1, 2023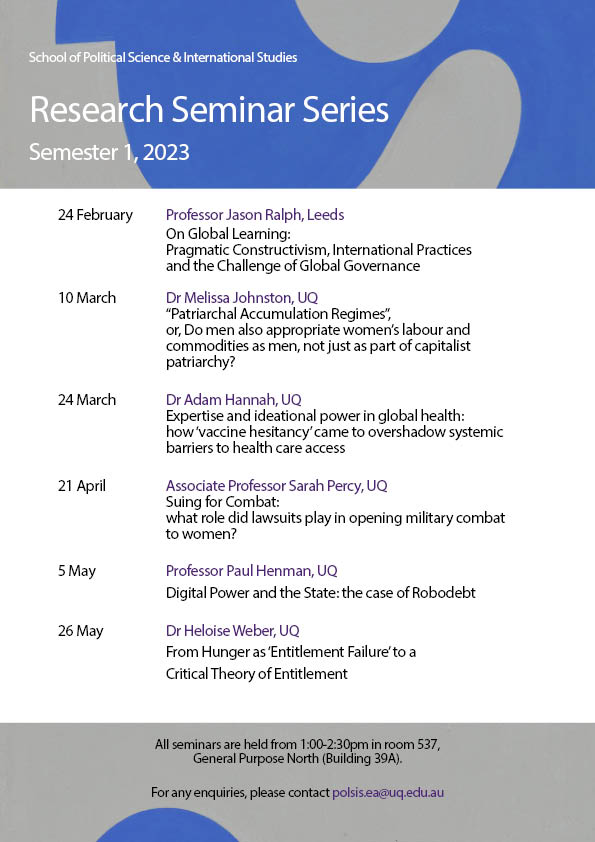 Artwork: Forme bleue (1935) by Sophie Taeuber-Arp