By: Roland Bleiker
Publisher: Routledge 
ISBN: 13: 978-0415726078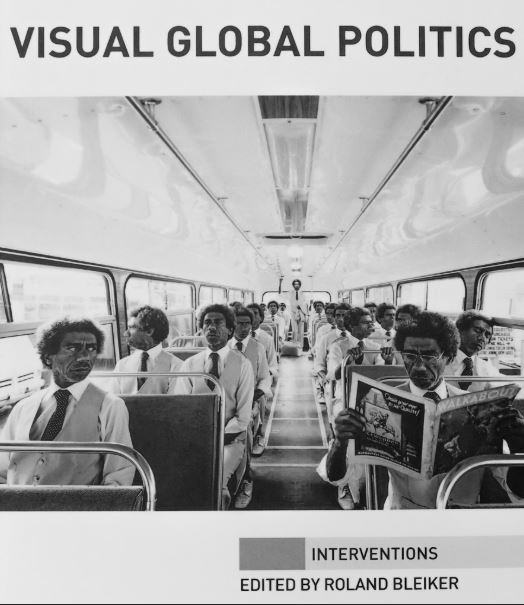 Roland Bleiker's Book Visual Global Politics came out earlier this year with Routledge.   It is the first comprehensive engagement with this topic. Uniting over 50 leading experts in numerous scholarly disciplines, Visual Global Politics is a one-stop source for anyone interested in understanding the crucial and persistent role of images in today's world.  Images and visual artefacts shape international events and our understanding of them.  Photographs, film and television influence how we view and approach phenomena as diverse as war, diplomacy, financial crises and election campaigns.  Other visual fields, from art and cartoons to maps, monuments and videogames, frame how politics is seen and enacted.  Drones, satellites and surveillance cameras watch us around the clock and deliver images that are then put to political use. Add to this that new technologies now allow for a rapid distribution of still and moving images around the world. Digital media platforms, such as Twitter, YouTube, Facebook and Instagram, play an important role across the political spectrum, from terrorist recruitment drives to social justice campaigns.
By: Richard Devetak
Publisher:  Oxford University Press
ISBN: 9780198823568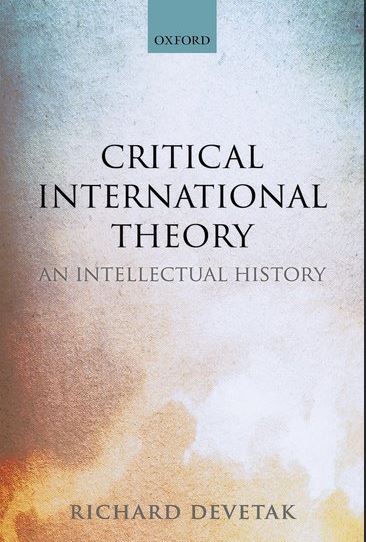 Whether inspired by the Frankfurt School or Antonio Gramsci, the impact of critical theory on the study of international relations has grown considerably since its advent in the early 1980s. This book offers the first intellectual history of critical international theory. 

Richard Devetak approaches this history by locating its emergence in the rising prestige of theory and the theoretical persona. As theory's prestige rose in the discipline of international relations it opened the way for normative and metatheoretical reconsiderations of the discipline and the world. The book traces the lines of intellectual inheritance through the Frankfurt School to the Enlightenment, German idealism, and historical materialism, to reveal the construction of a particular kind of intellectual persona: the critical international theorist who has mastered reflexive, dialectical forms of social philosophy. . In addition to the extensive treatment of critical theory's reception and development in international relations, the book recovers a rival form of theory that originates outside the usual inheritance of critical international theory in Renaissance humanism and the civil Enlightenment. This historical mode of theorising was intended to combat metaphysical encroachments on politics and international relations and to prioritise the mundane demands of civil government over the self-reflective demands of dialectical social philosophies. By proposing contextualist intellectual history as a form of critical theory, Critical International Theory defends a mode of historical critique that refuses the normative temptations to project present conceptions onto an alien past, and to abstract from the offices of civil government.
By: Alex Bellamy and Edward Luck
Publisher:  Wiley
ISBN: 978-1-509-51243-0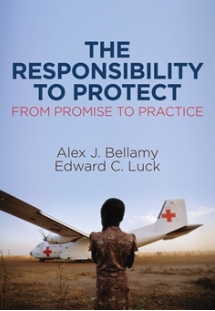 In 2005, the international community made a landmark commitment to prevent mass atrocities by unanimously adopting the UN's "Responsibility to Protect" (R2P) principle. As often as not, however, R2P has failed to translate into decisive action. Why does this gap persist between the world's normative pledges to R2P and its ability to make it a daily lived reality?
In this new book, leading global authorities on humanitarian protection Alex Bellamy and Edward Luck offer a probing and in-depth response to this fundamental question, calling for a more comprehensive approach to the practice of R2P – one that moves beyond states and the UN to include the full range of actors that play a role in protecting vulnerable populations. Drawing on cases from the Middle East to sub-Saharan Africa and Southeast Asia, they examine the forces and conditions that produce atrocity crimes and the challenge of responding to them quickly and effectively. Ultimately, they advocate both for emergency policies to temporarily stop carnage and for policies leading to sustainable change within societies and governments. Only by introducing these additional elements to the R2P toolkit will the failures associated with humanitarian crises like Syria and Libya become a thing of the past.
Publisher: Cambridge University Press (2018)
ISBN: 9781108658058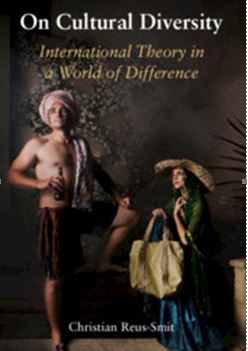 The rise of non-Western Great Powers, the spread of transnational religiously-justified insurgencies, and the resurgence of ethno-nationalism raise fundamental questions about the effects of cultural diversity on international order. Yet current debate - among academics, popular commentators, and policy-makers alike - rests on flawed understandings of culture and inaccurate assumptions about how historically cultural diversity has shaped the evolution of international orders. In this path-breaking book, Christian Reus-Smit details how the major theories of international relations have consistently misunderstood the nature and effects of culture, returning time and again to a conception long abandoned in specialist fields: the idea of cultures as coherent, bounded, and constitutive. Drawing on theoretical insights from anthropology, cultural studies, and sociology, and informed by new histories of diverse historical orders, this book presents a new theoretical account of the relationship between cultural diversity and international order: an account with far-reaching implications for how we understand contemporary transformations.
By: Alastair Stark
Publisher: Oxford University Press (2018)
ISBN: 9780198831990
In the aftermath of major crises governments turn to public inquiries to learn lessons. Inquiries often challenge established authority, frame heroes and villains in the public spotlight and deliver courtroom-like drama to hungry journalists. As such, they can become high-profile political stories in their own right. Inquiries also have a policy learning mandate with big implications because they are ultimately responsible for identifying policy lessons which, if implemented, should keep us safe from the next big event. However, despite their high-profile nature and their position as the pre-eminent means of learning about crises, we still know very little about what inquiries produce in terms of learning and what factors influence their effectiveness in this regard. 

In light of this, the question that animates this book is as important as it is simple. Can post-crisis inquiries deliver effective lesson-learning which will reduce our vulnerability to future threats? Conventional wisdom suggests that the answer to this question should be an emphatic no. Outside of the academy, for example, inquiries are regularly vilified as costly wastes of time that illuminate very little while inside social scientists echo similar concerns, regularly describing inquiries as unhelpful. These commentaries, however, lack robust, generalizable evidence to support their claims. This volume provides evidence from the first international comparison of post-crisis inquiries in Australia, Canada, New Zealand, and the United Kingdom, which shows that, contrary to conventional wisdom, the post-crisis inquiry is an effective means of policy learning after crises and that they consistently encourage policy reforms that enhance our resilience to future threats.
Edited by: Charles T Hunt and Noel M Morada
Publisher: BRILL 
ISBN: 978-90-04-36321-2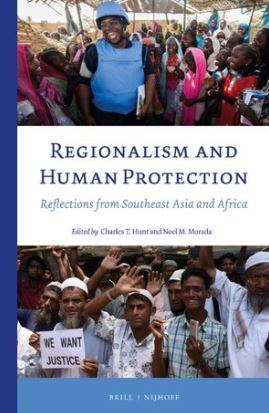 This book provides a detailed examination of how norms concerning human rights, civilian protection and prevention of mass atrocities have fared in the regions of Southeast Asia and Africa. Originated as a spin off of the journal GR2P (vol. 8/2-3, 2016), it has been enriched with new chapters and revised contents, which contrast the different experiences of those regions and investigates the expression of human protection norms in regional organisations and thematic policy agendas as well as the role of civil society mechanisms/processes. Hunt and Morada have brought together scholar-practitioners from across the world.The collection identifies a range of insights that provide rich opportunities for south-south exchange and mutual learning when it comes to promoting and building capacity for human protection at the regional level.
By: Sebastian Kaempf
Publisher: Cambridge University Press (2018)
ISBN: 9781108551816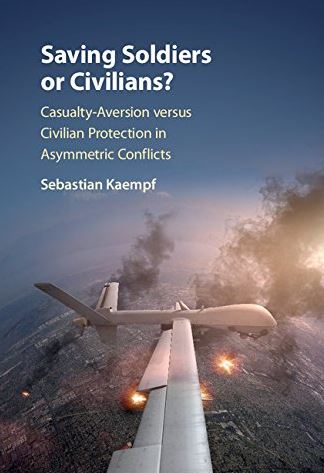 Concerns for the lives of soldiers and innocent civilians have come to underpin Western, and particularly American, warfare. Yet this new mode of conflict faces a dilemma: these two norms have opened new areas of vulnerability that have been systematically exploited by non-state adversaries. This strategic behaviour creates a trade-off, forcing decision-makers to have to choose between saving soldiers and civilians in target states. Sebastian Kaempf examines the origin and nature of this dilemma, and in a detailed analysis of the US conflicts in Somalia, Afghanistan and Iraq, investigates the ways the US has responded, assessing the legal, moral, and strategic consequences. Scholars and students of military and strategic studies, international relations and peace and conflict studies will be interested to read Kaempf's analysis of whether the US or its adversaries have succeeded in responding to this central dilemma of contemporary warfare.